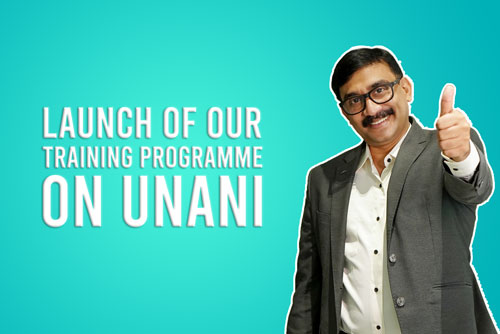 The everlasting history of Unani medicine and its benefits are no secret. It offers treatment for diseases related to all systems and organs of the human body without any side effects. Unani medicine focuses on treating the root cause and that is why it is always said to be a permanent remedy.
Knowledge beyond theory is always necessary to understand the inner layers of any profession. The practical world is quite different from what has been interpreted in the books.
Hermas Academia is conducting the 'First of its kind academic programme on Unani' conducted by Hakim KT Ajmal and other prominent Unani experts who have for over 30 years been a pioneer and visionary practicing Unani.
Hakim KT Ajmals Vision for such a programme started with seeing there are many interested in practicing but very few have made it immensely successful and practicing pure Unani. Furthermore, there is hardly a training program on Unani to polish the skill sets required on practicing Unani in the modern-day and age, and that motivated Doctor to start the first of its kind training programme. Doctors Vision is to empower one and all from the Unani community and to upskill and uplift one and all to be immensely successful on par practicing Unani.
Unani medicine is like a vast ocean that needs to be experienced and guided with the help of proper experts. This is an in-depth training session for attaining crystal clear practical knowledge about practicing Unani in the modern world. Gain in-depth concrete knowledge in setting up a complete successful Unani Center. Attain know-how of various treatment methods and practices one has to follow practicing Unani shared by our experts who have aced this with years of practice. Acquire the expertise to heal with Unani using best practice methods. Furthermore know how to use Unani philosophy in all aspects for a successful life. This program is also Integrated with Calicut Unani Hospital and Research Centre.

Join us on December 4th, 2021 to experience, uplift, and upskill yourself from Hakim KT Ajmal and other prominent Unani experts, sharing decades of experiences and Practical knowledge acquired over the years. We welcome you all to join the programme and together let us empower our Unani community and be immensely successful and prosper in terms of knowledge, health, wealth, and more.